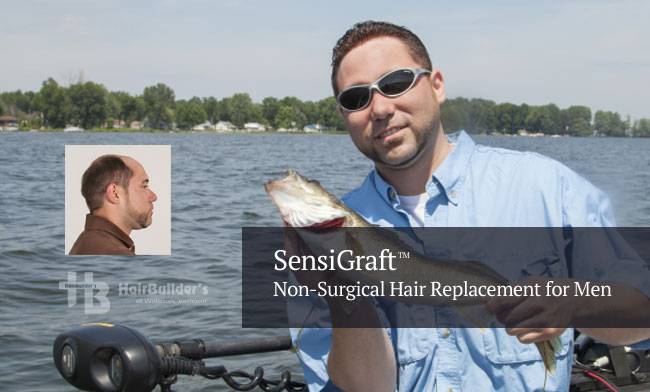 Sensigraft Hair Replacement for Men
Sensigraft is a state-of-the-art-smart hair restoration process that will look natural and real even to your cleverest friends.
The Sensigraft hair replacement for men is a uniquely thin, flexible, second skin like surface with natural hair growth patterns. The base being so thin and natural, it adheres with no ridges or bumps. It is literally undetectable to the human touch.
Ideal for men with active lifestyles, you can swim, shower, ski, sweat and roll around in the grass with your children. Sensigraft hair replacement is the proven custom men's hair loss solution that delivers great looking hair on your terms.
Custom Men's Hair Replacement – Williston, Vermont
HairBuilder's offers the latest breakthrough technology in non-surgical hair replacement for men. Now, with HairBuilder's exclusive Sensigraft Men's Hair Replacement systems, you can stop thinking about your hair loss and start enjoying life with a full head of great looking hair.
HairBuilder's exclusive Sensigraft hair replacement for men is the BEST and, most importantly, the most NATURAL looking hair restoration system for male hair loss available anywhere.
A perfect marriage of science and nature, our exclusive custom Sensigraft men's hair replacement is real human hair that styles perfectly. It's available in the Burlington, Williston area exclusively at HairBuilder's, where specially-trained stylists will give you what you've always dreamed about: a great looking full head of hair.
Best of all, there is almost no home maintenance at all. You get full service from the experts at HairBuilder's. And our network of concepts studios all over the country provides you with service wherever you travel.
Sensigraft Men's Hair Replacement Solutions offer:
The look of your own natural hair
100% Euro Texture Human Hair for the most natural appearance and touch
The confidence of having real hair in any style you want
Totally natural, complete undetectability, even up close and personal
Wherever you travel nationwide, a Sensigraft Hair Salon or Clinic is there to assist you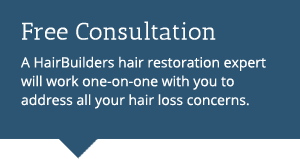 The Totally Natural Custom Hair Restoration Solution for Men
For men experiencing male pattern baldness, alopecia, or thinning hair, SensiGraft Hair Replacement solutions are the BEST and, most importantly, the most NATURAL answer to male pattern hair loss or Alopecia. In the Burlington, Vermont area, SensiGraft Hair Replacement systems are available exclusively at HairBuilder's.
Restore Your Hair and Your Confidence.
At HairBuilder's in Williston, Vermont, our attention to total client and patient services always includes:
Free, no obligation hair loss and scalp evaluation.
Discreet, private, dignified and confidential service.
Totally private styling rooms for both men and women.
Professional, one-on-one personalized service.
Convenient locations with private, off-street parking.
The security of dealing with a firm that has been continuously in business since 1984.
Which Hair Loss Solution is Right for You?
WE INVITE YOU to schedule a private, no-obligation consultation at one of our state-of-the-art hair restoration center in Williston, Vermont and discuss your hair loss concerns with a trained HairBuilder's hair loss professional.
Whether you are just starting to experience baldness or are in the most advanced stages of hair loss, we can help with our full spectrum of professional treatment and hair restoration options.
CLICK HERE to schedule your private hair loss evaluation today. Or call us any time at (802) 878-8400.