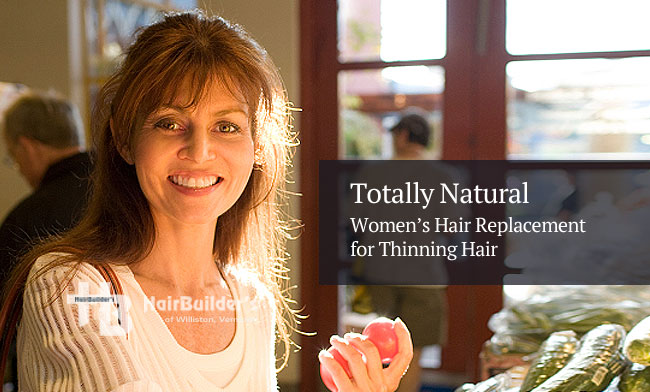 Methode Trapese Hair Replacement for Women

While men's hair loss is considered "normal" and accepted, women's hair loss is anything but. Yet, estimates of the number of women suffering from female hair loss under the age of 40 range from 10-20 million. And of these, over 90% will find their hair loss to be permanent.
Over 90% of hair loss in women is androgenic (hormone related): an inability of the body to properly break down the hormone testosterone in their bodies and are thus more masculine. Rather, all women have roughly the same amount of the male hormone (just as men have the same amount of estrogen). However, women with bodies unable to process and eliminate the hormone as it "ages" will see the atrophy of their hair follicles and the inevitable hair loss that follows.
Methode Trapeze Hair Replacement
Much like trapeze performers who meet and join in mid-air, Methode Trapeze bridges the gaps between your thinning hair utilizing a series of micro-fibers. The "bridges" created by the Methode Trapeze process are the utilized to securely hold 100% human hair, which is inserted in accordance with the density and flow of your natural hair before it started thinning. The nature of the process allows the new hair to be added exactly where needed in exactly the correct amount of density. This also ensure that the new hair will look totally natural as it lays alongside your growing hair, with none of the "built up" look that is common with standard machine made wigs and hair pieces.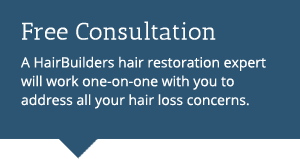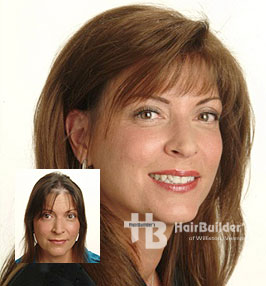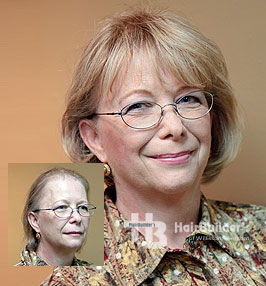 Restore Your Hair and Your Confidence.
At HairBuilder's in Williston, Vermont, our attention to total client and patient services always includes:
Free, no obligation hair loss and scalp evaluation.
Discreet, private, dignified and confidential service.
Totally private styling rooms for both men and women.
Professional, one-on-one personalized service.
Convenient locations with private, off-street parking.
The security of dealing with a firm that has been continuously in business since 1984.
Which Hair Loss Solution is Right for You?
WE INVITE YOU to schedule a private, no-obligation consultation at one of our state-of-the-art hair restoration center in Williston, Vermont and discuss your hair loss concerns with a trained HairBuilder's hair loss professional.
Whether you are just starting to experience baldness or are in the most advanced stages of hair loss, we can help with our full spectrum of professional treatment and hair restoration options.
CLICK HERE to schedule your private hair loss evaluation today. Or call us any time at (802) 878-8400.