THE HAIR YOU WANT WITHOUT SURGERY. COMPLETELY UNDETECTABLE. TOTALLY NATURAL.
Hairskeen Non-Surgical Hair Replacement for Men
THE HAIR YOU WANT. WITHOUT SURGERY.
Hairskeen Custom Men's Hair Replacement… Express Yourself!
Now you can get the hair density and style you've always wanted in just an afternoon and at a fraction of the cost of getting a hair transplant. With Hairskeen hair replacement for men, there are simply no compromises when it comes to your hair, your look, or your style!
Hair loss can be emotionally devastating, especially for young men under 50. It can keep you from enjoying any number of activities and it can even affect your career. It can be embarrassing and affect your self-confidence and image. Now you can say goodbye to hair loss anxiety once and for all.
Hairskeen is more than just restoring your hair. It is a real look, with totally natural style and attitude. Choose your style. Choose your look. Get the hair you've always wanted with the density, length, fullness, and sophisticated look you deserve.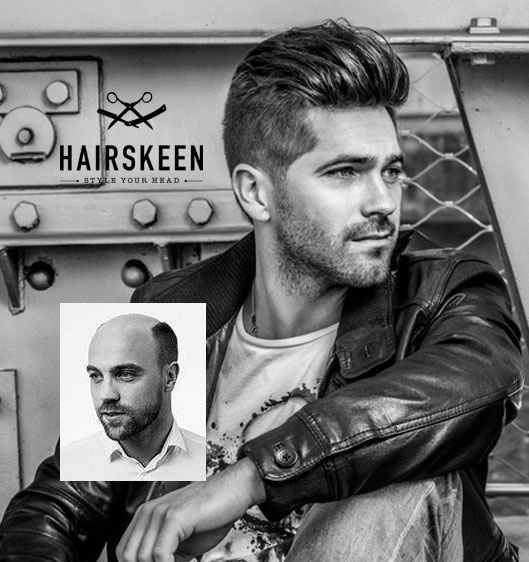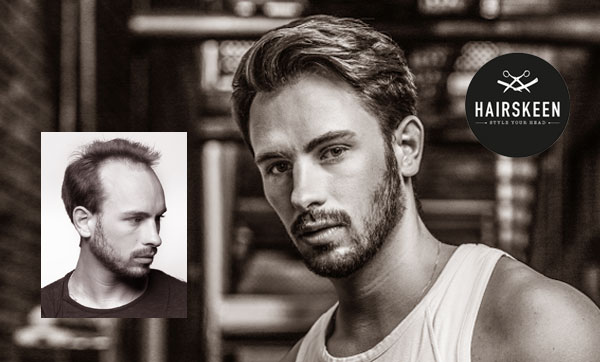 Hairskeen Hair Replacement:
The Perfect Men's Hair Loss Solution
Hairskeen offers a virtually limitless range of unique hair replacement solutions that combine the latest European hair replacement technology, aesthetics to help you restore your hair and your life.
Suitable for all types of male hair loss, Hairskeen gives you the most natural looking hair loss solution imaginable, with it's leading-edge technological advances and the finest Euro Texture Human Hair available for a custom-tailored ultra-natural result.
Hairskeen is more than just getting your hair back. It's a real look, with amazing style with a healthy dose of attitude thrown in for good measure. Going bald may not be a choice, but staying bald is. Now you can finally enjoy the hair you've always wanted with the density and natural look you want, from the trendy to the urban, to the modern or sophisticated.
Give Us an Afternoon.
We'll Give You Back 10 Years!
For men experiencing male pattern baldness, alopecia, or thinning hair, our state-of-the-art Men's Hair Replacement Solutions offer the BEST and, most importantly, the most NATURAL answer to male pattern hair loss or Alopecia. Say goodbye to hair loss anxiety once and for all. Schedule a free, private hair loss evaluation today and see just how much you have to gain.
What Our Client's Say

"I have been a client at HairBuilders for just over a year now. Agnes and her staff have gone out of their way to make me feel comfortable and well cared for, as well as making sure I am satisfied with my hair system. I can say honestly that I love my hair now and I actually find myself smiling when I do my morning hair routine now. I've finally gotten back my confidence in my appearance and don't feel self-conscious when I'm out with friends or at work any more. My hair looks natural and it looks like it's my own growing hair. I am so thankful that I found HairBuilders. Thank you." – Chase M.
"I've been going to Hairbuilders in Williston for about six months.  The staff is super friendly and take the time to help you and answer your questions. Agnes is extremely caring and it's obvious she cares about each and every one of her clients. Being a sophomore in college, losing my hair wasn't an easy situation to try to cope with, but I highly recommend Hairbuilders to any guy who is bothered by his hair and wants to do something about it." – Tyler L.
GET STARTED WITH A
FREE CONSULTATION
Whether you are experiencing thinning hair and want to stop your hair loss, or want more hair, we provide the most advanced and effective hair loss treatment and hair restoration procedures for men and women of all ages and hair types.
Trust. Care. Confidence.
All of our services are provided with your complete privacy in mind. We provide a discreet, confidential, professional atmosphere which all our patients appreciate, especially those whose work places them in the public eye.
Get Answers Today
RESTORE YOUR HAIR. RESTORE YOUR LIFE. Schedule a free, private consultation today.