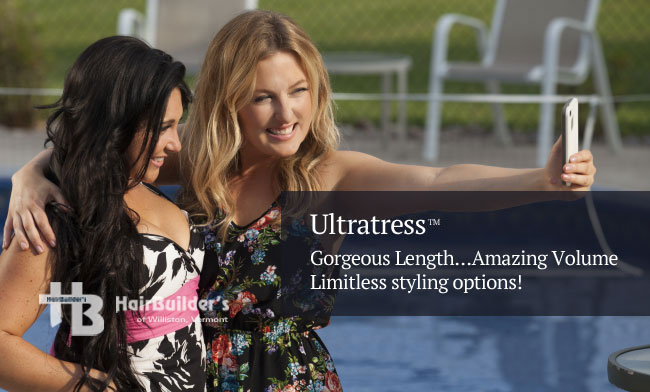 Ultratress Hair Extensions in Burlington
Ultratress Now it's easy to add great new volume and length that you've always wanted with Ultratress Premium Quality Custom Human Hair Extensions.
Ultratress Hair Extensions are 100% human hair extensions so your extensions will make you look great and feel more self-confident, sexy and secure than ever before!
Now you can increase hair volume and have long, thick, healthy, beautiful hair flowing down over your shoulders in gentle waves because Ultratress is available in a wide variety of lengths and colors.
Just like standard hair extensions, Ultratress can lengthen hair. But Ultratress is a different type of hair extension. Because of the unique way it's accomplished, Ultratress can also be used to add volume or highlights or lowlights-to achieve almost any look you desire. Even when used for hair lengthening, Ultratress works differently than today's hair extensions.
Gorgeous Length, Volume and Styling Options
100% natural human hair extensions aren't just for Hollywood celebrities. Models, actresses, and many other women just love hair extensions, because they can make your hair instantly longer or thicker, and provide increased hair volume where you want it.
Continue all of the activities you currently enjoy such as swimming, fitness, jogging, and much more. You can also choose between wearing your hair up or down. With Ultratress Hair Extensions, you don't need to limit your lifestyle in any way. You can swim, shower and exercise just as you always do.
Ultratress Hair Extensions are gentle on your own hair. Made from individually-selected 100% natural human hair, Ultratress hair extensions are available in a variety of hair textures and  lengths to give you almost limitless styling options.
Restore Your Hair and Your Confidence.
At HairBuilder's in Williston, Vermont, our attention to total client and patient services always includes:
Free, no obligation hair loss and scalp evaluation.
Discreet, private, dignified and confidential service.
Totally private styling rooms for both men and women.
Professional, one-on-one personalized service.
Convenient locations with private, off-street parking.
The security of dealing with a firm that has been continuously in business since 1984.
Which Hair Loss Solution is Right for You?
WE INVITE YOU to schedule a private, no-obligation consultation at one of our state-of-the-art hair restoration center in Williston, Vermont and discuss your hair loss concerns with a trained HairBuilder's hair loss professional.
Whether you are just starting to experience baldness or are in the most advanced stages of hair loss, we can help with our full spectrum of professional treatment and hair restoration options.
CLICK HERE to schedule your private hair loss evaluation today. Or call us any time at (802) 878-8400.