Reallusions Women's Hair Replacement
Reallusions Hair Replacement for Women is our newest and most exciting solution for women experiencing hair loss or thinning hair, and is ideal for women who are suffering from hair loss caused by alopecia areata, trichotillomania, hormones or other medical causes. It is ideal for women with female hair loss and thinning hair.
Created with the latest in European women's hair replacement technology, Reallusions custom hair replacements for women can dramatically increase the density, thickness and length of a woman's thinning hair, naturally and undetectably.
Custom created with 100% natural Euro-texture human hair, your Reallusions hair replacement system is integrated perfectly into your existing hair to give you the perfect natural look and style you've always dreamt of having. And it is absolutely undetectable.
Imagine seeing yourself 24/7 with a great look full head of hair. Now you don't have to worry about going out in the rain, or going outdoors on a windy day. You don't have to worry about people looking at your scalp when they are talking to you instead of look at you. With Reallusions Hair Replacement for Women, you not only get your hair back, you get your confidence and smile back, too.
Beautiful Custom Hair Loss Solutions for Women
The uniqueness of the Reallusions hair replacement system allows for the most natural look imaginable. Your hair will fall and move naturally. There's no built-up, wiggy appearance, since your new hair has been integrated to your existing hair and scalp.
The result? Your friends might well think your hair grew back. Or that you tried a new hairstyle. With our new Reallusions procedure, they just can't tell. Unless you do.
The caring staff at HairBuilder's will help you create the perfect look and style you want with a custom Reallusions hair loss solution that compliments your busy life, sense of style and your personality.
Our highest quality hair replacement solutions give women experiencing androgenetic alopecia, thinning hair, and hair loss due to medical disorders, the confidence to socialize with family and friends and to pursue their active lifestyle and career goals.
We invite you to come in and see for yourself the amazing selection of women's hair loss solutions at HairBuilder's and see why we are considered one of the most trusted hair restoration facilities in the country.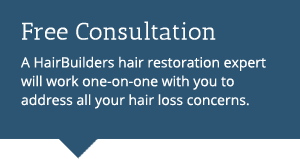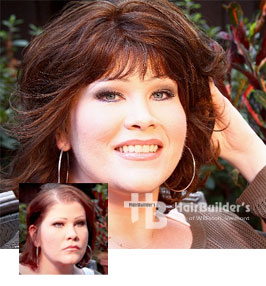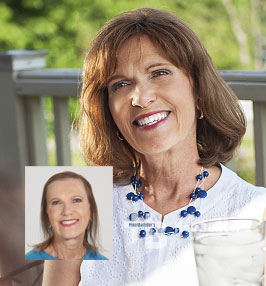 Restore Your Hair and Your Confidence.
At HairBuilder's in Williston, Vermont, our attention to total client and patient services always includes:
Free, no obligation hair loss and scalp evaluation.
Discreet, private, dignified and confidential service.
Totally private styling rooms for both men and women.
Professional, one-on-one personalized service.
Convenient locations with private, off-street parking.
The security of dealing with a firm that has been continuously in business since 1984.
Which Hair Loss Solution is Right for You?
WE INVITE YOU to schedule a private, no-obligation consultation at one of our state-of-the-art hair restoration center in Williston, Vermont and discuss your hair loss concerns with a trained HairBuilder's hair loss professional.
Whether you are just starting to experience baldness or are in the most advanced stages of hair loss, we can help with our full spectrum of professional treatment and hair restoration options.
CLICK HERE to schedule your private hair loss evaluation today. Or call us any time at (802) 878-8400.