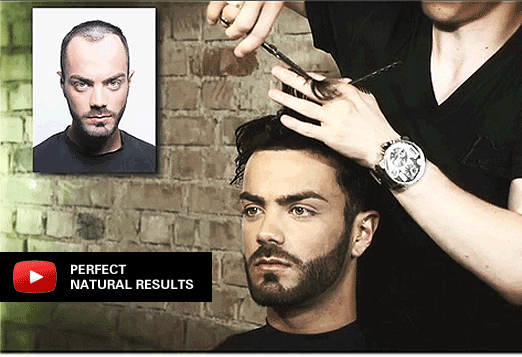 Totally Natural, Custom Men's Hair Replacement
HairBuilder's Custom Men's Hair Restoration Solutions are created from the finest human hair available and are virtually undetectable to both sight and touch. Unlike a hairpiece, your custom HairBuilder's hair replacement system is made especially for you and you alone. It's not something you "wear," but something that becomes part of you. The system involves applying an invisible, non surgical base, into which perfectly matched human hair is then inserted. You can wash, style, and sleep in it. It's your hair no matter where you are. Out on the town, late night at home or even in the boardroom.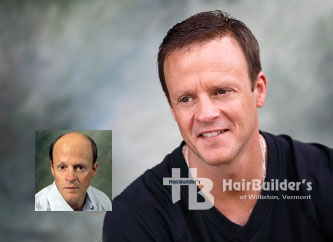 Your custom created hair restoration is created to your exact age-appropriate specifications and matched for color, curl, texture and density, your HairBuilder's non-surgical hair restoration system is the perfect hair solution for men who want look in the mirror and see a stylish, great looking head of hair. The end result is that your customized hair replacement solution restores your natural appearance with a full head of hair that looks like it is growing naturally from your own scalp.
And best of all, you can have the same total coverage of your scalp as you had before you started going losing your hair. No one will know that the hair they see it's not own real hair growing out of your own scalp. Just one look at this unretouched photo shows how natural your new hair will look.
We can create any hairstyle you desire, including those hairstyles that are combed back in such a way as to totally expose the front hairline.
Say Goodbye to Hair Loss Anxiety. Call (802) 878-8400.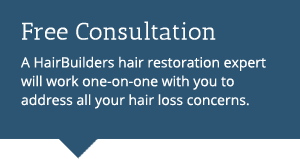 Men's Hair Restoration and Hair Replacement
At HairBuilder's, we offer all tested and proven men's hair loss solutions, including:

At HairBuilder's of Williston, Vermont, we offer the latest in state-of-the-art men's hair restoration and male hair replacement solutions designed specifically to meet the individual and unique needs men experience with hair loss, male pattern baldness, thinning hair and medically related hair loss.
Restore Your Hair and Your Confidence.
At HairBuilder's in Williston, Vermont, our attention to total client and patient services always includes:
Free, no obligation hair loss and scalp evaluation.
Discreet, private, dignified and confidential service.
Totally private styling rooms for both men and women.
Professional, one-on-one personalized service.
Convenient locations with private, off-street parking.
The security of dealing with a firm that has been continuously in business since 1984.
Which Hair Loss Solution is Right for You?
WE INVITE YOU to schedule a private, no-obligation consultation at one of our state-of-the-art hair restoration center in Williston, Vermont and discuss your hair loss concerns with a trained HairBuilder's hair loss professional.
Whether you are just starting to experience baldness or are in the most advanced stages of hair loss, we can help with our full spectrum of professional treatment and hair restoration options.
CLICK HERE to schedule your private hair loss evaluation today. Or call us any time at (802) 878-8400.