About HairBuilder's of Vermont
YOU DON'T HAVE TO SETTLE FOR LOOKING LESS THAN YOUR BEST. At HairBuilder's you can forget those silly wigs, hair-pieces, and toupees. We are dedicated to providing custom-tailored, totally undetectable, proven hair loss treatments and solutions for men, women and children in a comfortable, discrete, private environment.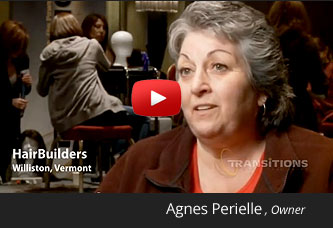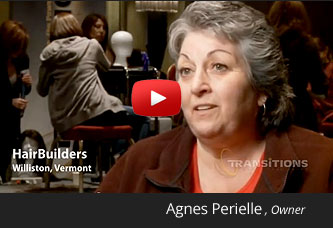 Our hair loss experts will work with you to determine the right custom solution, without bias towards any one solution. Our staff of experienced specialists and highly trained professional stylists and will ensure your expectations are met and exceeded.
Put away the hats and scarves. At HairBuilders, men and women of all ages receive the best care and the newest technologies available. Shower, exercise, walk into the wind without detection. A custom HairBuilders hair replacement solution is just like your own natural hair. You'll forget you ever had a hair loss problem.
As a certified Transitions Hair Replacement Studio, our talented, professional team will restore the natural volume and healthy look to your hair, resulting in a sensational new look to match your lifestyle or a welcome return to the look you've loved for years.
If you or someone you know is suffering from alopecia, hair loss, balding or undergoing a medical procedure causing hair loss, then HairBuilders in Williston, Vermont has the state of the art, personally customized hair loss treatment to suite the hair loss needs!
Conveniently Located
HairBuilders is conveniently located in Williston (Burlington), Vermont. We are Vermont's pioneer of state-of-the-art hair restoration, being one of the first studios of its kind in Vermont!
As a professional, client-focused hair replacement center, with over 30 years of service to the greater Williston, Burlington and New England, HairBuilders continues to be a leader in longevity, creativity, customer satisfaction, and results!
Our staff regularly participates in continuing professional education programs, including seminars, training classes and certification programs throughout the year… every year.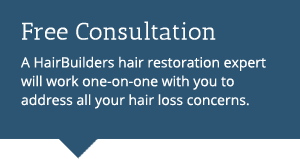 Always Exceptional Customer Service
For over 30 years, HairBuilders has placed the highest priority on quality and service. We extend every courtesy and accommodation to our clients to ensure a pleasant experience. With convenient, nearby parking, HairBuilders is specifically designed for your comfort and privacy. We believe you'll find our service exceptional.
Restore Your Hair and Your Confidence.
At HairBuilder's in Williston, Vermont, our attention to total client and patient services always includes:
Free, no obligation hair loss and scalp evaluation.
Discreet, private, dignified and confidential service.
Totally private styling rooms for both men and women.
Professional, one-on-one personalized service.
Convenient locations with private, off-street parking.
The security of dealing with a firm that has been continuously in business since 1984.
Which Hair Loss Solution is Right for You?
WE INVITE YOU to schedule a private, no-obligation consultation at one of our state-of-the-art hair restoration center in Williston, Vermont and discuss your hair loss concerns with a trained HairBuilder's hair loss professional.
Whether you are just starting to experience baldness or are in the most advanced stages of hair loss, we can help with our full spectrum of professional treatment and hair restoration options.
CLICK HERE to schedule your private hair loss evaluation today. Or call us any time at (802) 878-8400.