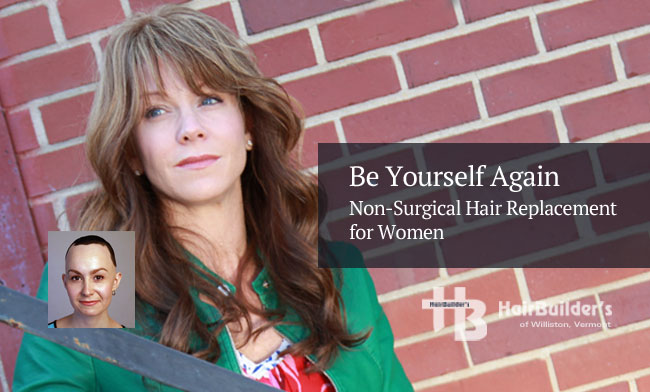 Women's Hair Restoration and Hair Replacement
To look good is to feel good. Female pattern hair loss and thinning hair can be devastating, embarrassing. One-in-four women may experience genetic-related hair loss.
Millions of women suffer from thinning hair, trichotillomania, alopecia areata, and hair loss as a result of medical treatments, chemotherapy or some sort of trauma.
Our expert team of hair restoration specialists is dedicated to meeting the needs of women in the Williston – Burlington area and across Vermont who are suffering from thinning hair and hair loss. We are devoted to providing the highest levels of confidential, personalized service in a comfortable, caring, and private setting.
Women's Hair Restoration
At HairBuilder's, we are proud to offer the most advanced, and naturally beautiful custom women's hair loss solutions designed to meet your individual needs and desires. We help you understand the causes of your hair loss and share the many hair replacement and hair loss treatment options available to restore your hair to the natural thickness, length, volume, and style you remember.
In recent years, there have been extraordinary advancements in women's hair replacement and hair restoration. Women today have options for hair replacement that look and feel totally natural, and to the probing eye and touch it is completely undetectable and move just like your own natural hair. Today there is no need to suffer the nervous glances and raised eyebrows of others.
HairBuilder's offers all proven female hair loss solutions, treatment options, and hair loss prevention products for all types of women's hair loss, from the mild to severe, regardless of the cause. Our women's hair loss solutions include:

Women's Hair Restoration Williston
Our professional staff is dedicated to the highest standards of personalized, confidential service. They understand the many issues that accompany female hair loss and thinning hair and the emotional toll it can take. Our stylists have the reputation for being the best when it comes to women's hair replacement, combining technical expertise and artistry to truly transform your look, giving you the length, volume and style of your dreams.
Perfect, Natural Results
Your individually customized hair restoration system appears as though the hair is growing directly out of your scalp, with a totally natural looking hairline, and a completely natural feel to the touch. And best of all, you can have the same total coverage of your scalp as you had before you ever loss any hair.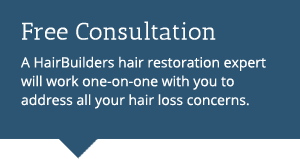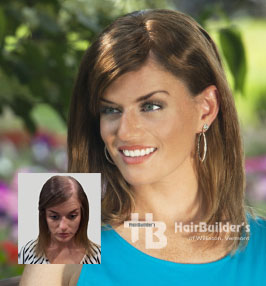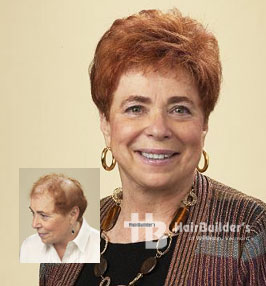 Restore Your Hair and Your Confidence.
At HairBuilder's in Williston, Vermont, our attention to total client and patient services always includes:
Free, no obligation hair loss and scalp evaluation.
Discreet, private, dignified and confidential service.
Totally private styling rooms for both men and women.
Professional, one-on-one personalized service.
Convenient locations with private, off-street parking.
The security of dealing with a firm that has been continuously in business since 1984.
Which Hair Loss Solution is Right for You?
WE INVITE YOU to schedule a private, no-obligation consultation at one of our state-of-the-art hair restoration center in Williston, Vermont and discuss your hair loss concerns with a trained HairBuilder's hair loss professional.
Whether you are just starting to experience baldness or are in the most advanced stages of hair loss, we can help with our full spectrum of professional treatment and hair restoration options.
CLICK HERE to schedule your private hair loss evaluation today. Or call us any time at (802) 878-8400.