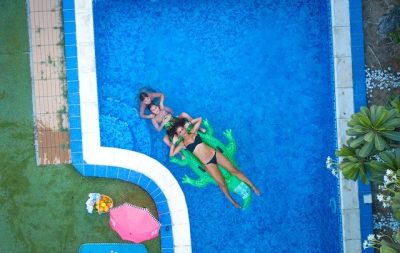 When the weather is warm there is no better way to cool off than enjoying a cool dip in the pool. Chlorine is a chemical that is used to keep the water safe, but it can also cause damage to our hair. Keeping your hair protected from the harmful effects of chlorine is vital. We have put together some helpful tips that can keep your hair looking good while being protected when in chlorinated pools.
Shower Before Swimming
Before you jump in that pool, look to see if there is a shower. If so, then soak your hair well before going in the water. While this may sound counter-productive, your hair is porous and by soaking your hair in fresh water it will fill with liquid. This will make it more difficult for chlorinated water to get into the hair follicles, which can damage the hair shaft. If you don't have access to a shower, then use bottled water that you can bring with you to pour over your hair before jumping in the water. You can also run a little Moroccan argan oil or olive oil through wet hair before swimming to help waterproof your hair and keep it from damage.
Swim Cap
You may not be an Olympic swimmer but you can still wear a swim cap. It will help a great deal to protect your hair from metal properties in chlorinated water and keep it dry as you swim. If you apply a deep conditioner to your hair before putting the cap on it will provide a more even protection. Another way to protect your hair is to tie it up or wear a scarf. If you go swimming outdoors, think about using UV protection hair spray which helps block the sun's harmful rays.
Rinse Your Hair
When you get out of the pool it is a good idea to rinse off your hair with fresh water. Doing this will help in reducing the residual build up of chemicals; therefore helping to protect your hair from damage.
Care for Your Hair
When you're done swimming, the next step is caring for your hair with two deep shampoos to rinse off any chemicals. There are anti-chlorine shampoos that are great if you have dry or brittle hair. If your hair is colored, then apply a color-saving shampoo. It is important to rinse for longer than usual to get rid of any residual chemicals. Using a deep conditioning hair mask is another great way to treat your hair after swimming. Simply leave it on for 10-15 minutes.
By following these simple and easy tips you can enjoy cooling off in the pool while taking care of your hair, and helping it remain in the top condition.