Nine Tips for Women with Thinning Hair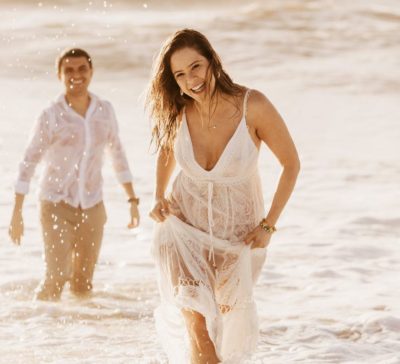 There's a life-changing beauty moment in the lives of many women that's bigger than finding your first gray hair or fine line: the moment you discover your hair is thinning. While it's often the only cosmetic problem men talk about as they lean toward middle age, it's rarely considered a female problem—even though a Harvard Medical School report says that one-third of women will experience hair loss in their lifetime. So let's talk about it.
First of all, what causes women to lose their hair? "Certain medications can cause hair loss: vitamin A, anticoagulants, hormones, and even antidepressants," says Dr. Gervaise Gerstner, L'Oréal Paris Consulting Dermatologist. "Additionally, environmental and artificial stressors like hair straightening and coloring can cause hair loss, as well as health issues such as thyroid problems, anemia and hormonal changes. But the issue is mostly hereditary. We call it androgenetic alopecia." Dr. Gerstner says a series of tests can be conducted to get to the root of the problem, and that's when you can start searching for a solution.
Medical Solutions
"We have plenty of options at our disposal to help women who are dealing with thinning hair and hair loss: Biotin, Viviscal and Aviva hair supplements work very well, as do steroid scalp injections," says Dr. Gerstner. "There are also hair transplants, which can take many hours and are very costly. Some of the plugs take, some don't." She recommends seeking a top physician if you decide on this route.
Topical Products
Topical products can be very effective. Women's Rogaine now comes in a foam formula that can be applied once daily for fast and easy hair growth stimulation. Other products, like the Redken Cerafill Retaliate line, include a minoxidil topical hair regrowth treatment along with daily hair care products that stimulate the scalp and support regrowth. If your hair loss is temporary—due to anything from stress to pregnancy—products like Phyto Phytocane Revitalizing Serum ($65) can help stimulate your scalp.
Get a Haircut
The transformative powers of a good hairstyle can't be denied, but the word "cut" can be scary. "Most women don't want to sacrifice any hair, but a chic, stylish cut can change your look and minimize the appearance of hair loss," explains says Jill Crosby, celebrity stylist and spokesperson for Women's Rogaine. "Hanging onto to uneven hair can make the problem look worse. The right cut can create weight lines as a visual indicator of weight and volume, which is exactly what you need: the illusion of depth."
Change Your Color
Also, don't be afraid of color. "Color offers a really welcome aesthetic and emotional change. It also adds dimension to a cut and volume since color expands the cuticle of the hair," says Crosby. "Go to someone who really understands chemical processes so they can take care of your hair while they're processing." She adds that this isn't the time to experiment at home. "I don't recommend just grabbing a box of color. The wrong hair color can make the thinning problem appear worse. Women often go dark with home color, which is a no-no if you have fair skin; it makes the hair loss stand out. You want to enhance your skin tone so that the thinning is less noticeable."
Watch the Heat Styling
In order to protect the hair you have, lower the temperature of your styling tools. "No more high heat from a hair dryer; thin hair requires a very low heat setting," cautions Crosby, who suggests cutting the heat into a third of what you'd normally use and work your way up from there. "Also, regular usage of thermal protection products is a must."
If your thinning hair is keeping you from fully enjoying life, we invite you to visit us at HairBuilders of Vermont in Williston. Our hair restoration specialists will help you find the best hair replacement system to suit your needs. Schedule a free consultation today. It could be the best hour you've ever spent.